MetalSwap
Oct 26, 2023 1:43:24 PM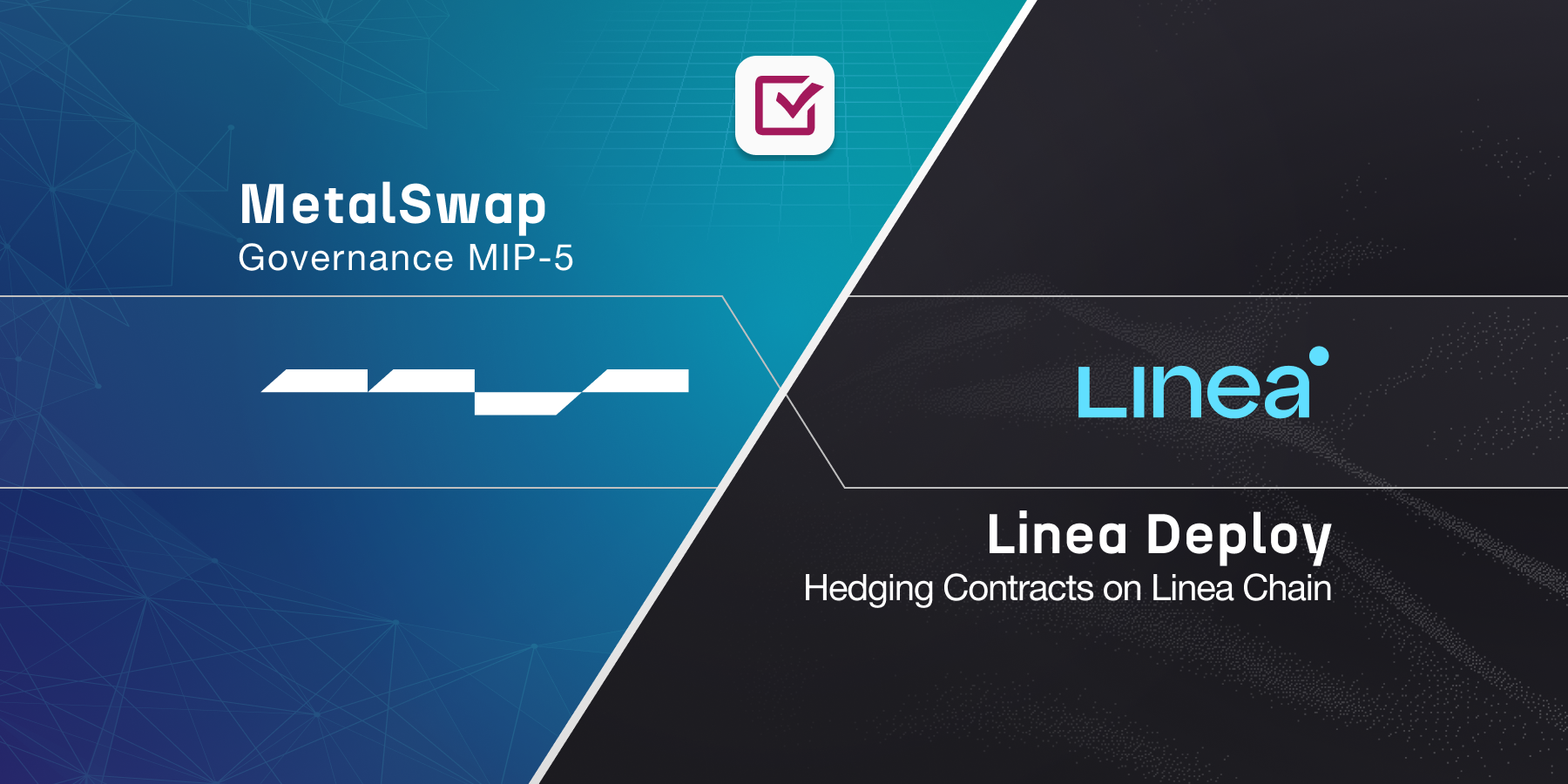 We are excited to introduce the latest initiative to fortify MetalSwap platform's capability:
the implementation of Hedging Contracts on Linea's Layer-2. This enhancement is driven by our commitment to scalability and optimizing MetalSwap for the future.
Presenting the fifth MetalSwap Improvement Proposal (MIP-5), this initiative seeks to deploy our protocol on Linea's Layer-2, harnessing the potential of optimistic roll-up technology. Dive deeper into this proposal on the Governance Forum, where the DeFi Foundation has just unveiled the full text of the Official Proposal. Shortly, we'll prompt you to exercise your right and cast your vote via the official Governance dApp section. The voting window will open on the 6th of November 2023, spanning three days.
For newcomers or those desiring a recap on our voting procedures, refer to our "How to vote through MetalSwap's DAO" guide available on our Docusaurus page. This step-by-step tutorial ensures that your voice counts in MetalSwap's evolutionary trajectory.
Eligibility for Voting
This pivotal DAO decision is accessible to MetalSwap community members adhering to these stipulations on Ethereum's mainchain:
Hold $XMT in their wallet

Have $XMT staked on the Active Ethereum Smart Pool

Possess $XMT staked in the ALPHA CLUB NFT Pools
To get involved, ensure you tap the "Self-Delegate" option on MetalSwap's Governance Page for every public address you'd like to enlist for the impending votes before the proposal transitions on-chain. The snapshot determining participation eligibility will be captured as the proposal goes live on-chain. Failure to select the "Self-Delegate'' option before this time will render you ineligible to vote. Retaining our established criteria: a Quorum of 20 million XMT is requisite for the vote's validation.
Advancements with Linea's Layer-2 Deployment
Engaging with Linea's Layer-2 offers an array of benefits, including:
Enhanced scalability and performance

Streamlined hedging contracts processes

Expanding visibility in the DeFi landscape
By participating in this vote, you'll be instrumental in charting the path for our ecosystem, fostering a more robust and innovative MetalSwap.
Voting
This is the first ever official proposal to take place on Snapshot. Therefore, we invite every voter to follow MetalSwap's Official Snapshot Space.
https://snapshot.org/#/metalswapdao.eth

The voting timeline is set for 3 days, commencing on the 6th of November 2023, net of technical problems that we cannot foresee as it is the first proposal on Snapshot.
Your input can significantly mold MetalSwap's destiny. Your insights and perspectives are the fuel propelling our expansion, so seize this moment to leave a lasting legacy.
Thank You
-The DeFi Foundation
✎ About MetalSwap
MetalSwap is a decentralized platform that pioneers Hedging Contracts in the financial markets. Our mission is to provide coverage for digital asset operators and investment opportunities for liquidity contributors. With MetalSwap, we're revolutionizing the DeFi landscape with AMM-style Hedging Contracts.
RISKOFF HEDGING CONTRACTS with MetalSwap dApp!