MetalSwap
Aug 31, 2023 6:48:23 AM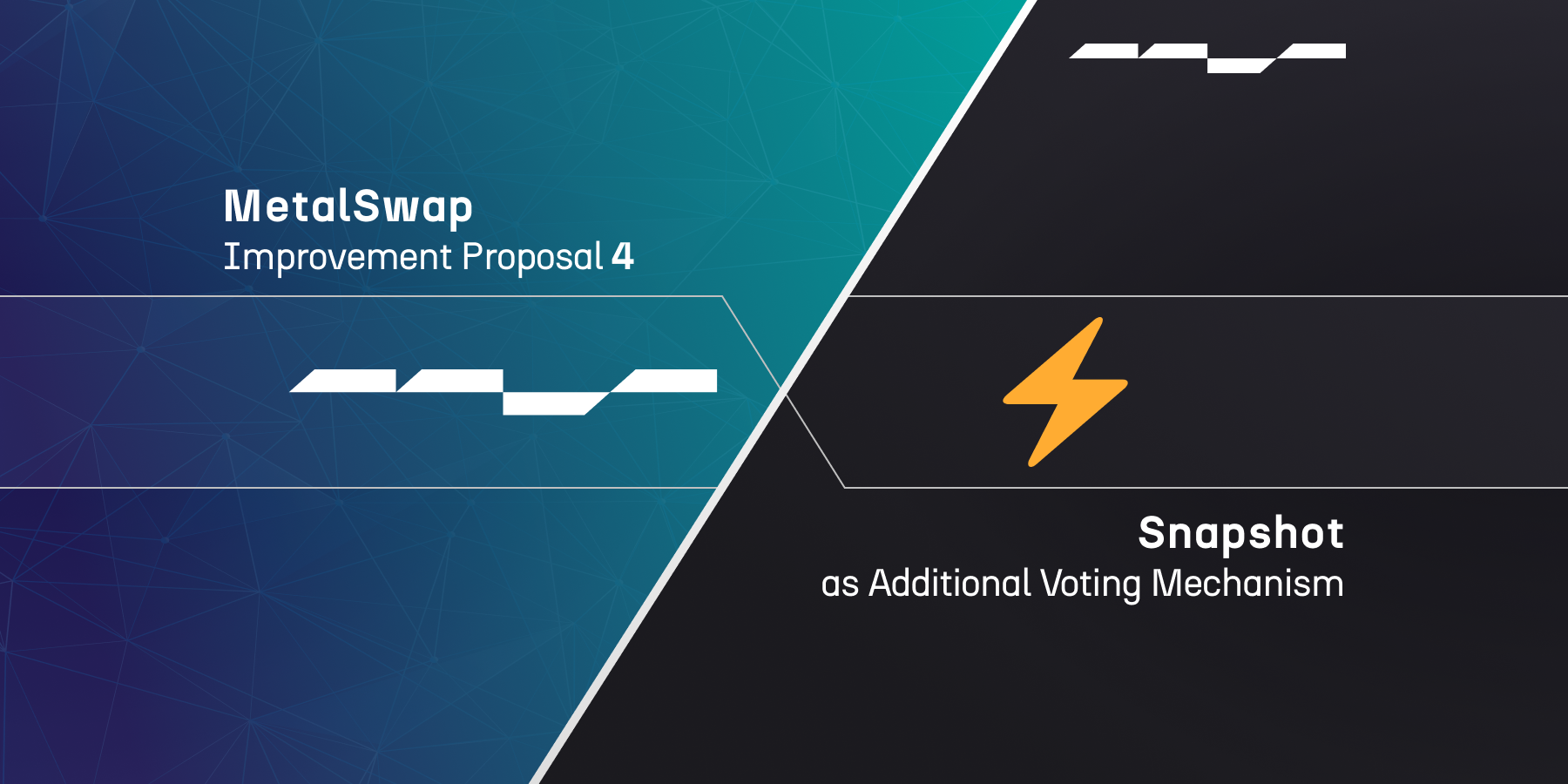 We are thrilled to bring you another groundbreaking proposal that aims to revolutionize the way we make decisions within our community: the addition of Snapshot.org , a decentralized voting platform, into MetalSwap's existing DAO framework. This proposal is designed to make DAO decisions more cost-effective and accessible, while still adhering to our current governance rules.
This fourth MetalSwap Improvement Proposal (MIP-4) outlines this significant advancement for the MetalSwap platform. You can find the full details and join the discussion on the Governance Forum, where the DeFi Foundation just published the full text of the Official Proposal. Soon after, you will be called to cast your vote through the official Governance dApp section. The votation will open from the 4th of Setptember and it can be done whithin three days.
For those new to our community or those who need a refresher on the voting process, we have prepared a "How to vote through MetalSwap's DAO" comprehensive guide on our Docusaurus page. This guide will help you navigate the voting process, ensuring your voice is heard in shaping MetalSwap's future.
Eligibility for Voting
This crucial DAO vote is open to all MetalSwap community members who meet the following criteria on Ethereum's mainchain:
Have $XMT in their wallet

Have staked $XMT on the Active Ethereum Smart Pool

Have $XMT staked in the ALPHA CLUB NFT Pools
To participate, make sure to click the "Self-Delegate" button on MetalSwap's Governance Page for each public address you wish to involve in the upcoming votes before the proposal goes onchain. The snapshot for participation eligibility will be taken when the proposal goes on-chain. If you haven't clicked the "Self-Delegate" button by then, you won't be able to vote. Keeping the same rules: a Quorum of 20 million XMT must be reached for the vote to be considered valid.
Benefits of Integrating Snapshot
The integration of Snapshot into our DAO will offer numerous advantages, including:
Lower transaction costs for voting

Increased accessibility for those holding fewer XMTs

Enhanced inclusivity in decision-making
By participating in this vote, you have the power to shape the future of our ecosystem and contribute to building a more efficient and inclusive DAO.
Voting Period
The voting period will last 3 days and will commence the 4th of September 2023.
We strongly encourage you to take part in this pivotal vote and make a lasting impact on MetalSwap's future. Your thoughts and opinions are invaluable in driving our growth, so don't miss this chance to make your mark.
Thank You
Thank you for your continued support, we look forward to your active participation in shaping the next chapter of MetalSwap's journey. Together, let's create a stronger, more innovative, and inclusive DAO!
To the MetalSwap
... and beyond!
-The DeFi Foundation
✎ What is MetalSwap?
MetalSwap is a decentralized platform that allows hedging swaps on financial markets with the aim of providing a coverage to those who work with commodities and an investment opportunity for those who contribute to increase the shared liquidity of the project. Allowing the protection for an increasing number of operators.
With MetalSwap we enable hedging swap transactions through the use of Smart Contracts, AMM style.