MetalSwap
Nov 10, 2023 12:05:56 PM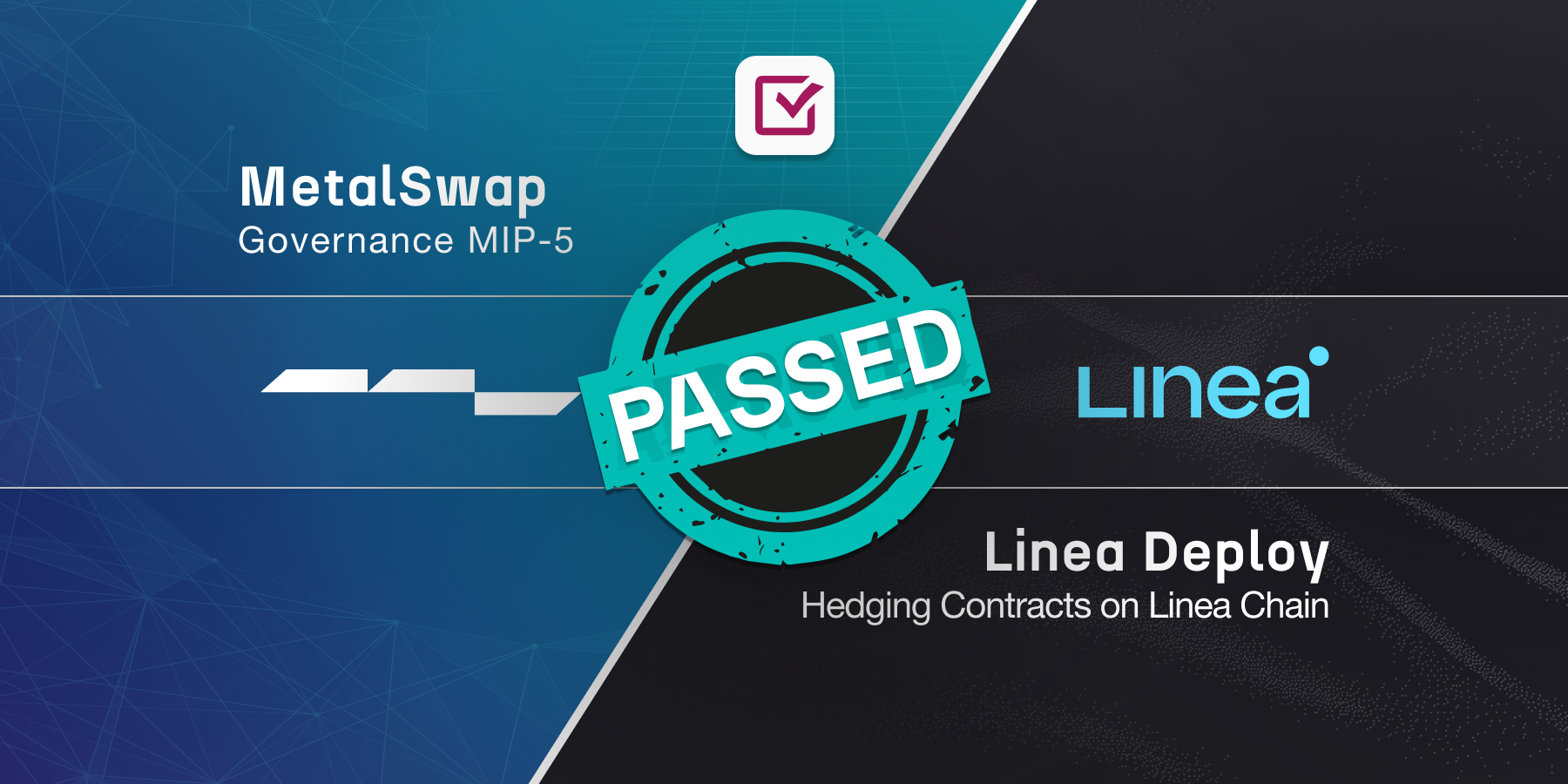 We are thrilled to announce a landmark victory in the MetalSwap community: MIP-5 has been successfully passed! This is a significant milestone that marks a new era in our journey towards optimizing and expanding MetalSwap's landscape with Linea's Layer-2.
MIP-5 Voting Overview
Strategy: Single Choice Voting on Snapshot
Voting Period: November 6, 2023, 4:59 PM to November 9, 2023, 4:59 PM
Snapshot Block: 18,513,936
Results: A resounding 'Yes' with 38M XMT (100%)
Quorum Achieved: 38M XMT against the required 20M XMT
The community's overwhelming support, as evidenced by the 100% voting in favor, showcases the collective belief in MetalSwap's vision and the exciting possibilities on Linea's Layer-2.
We also updated the SnapShot voting rules, so from now everyone that has staked XMT on MetalSwap's active pools and no XMT in their wallet can vote, and launched the Temperature Check, a new type of gas-free interaction with the DAO that aims to gauge community sentiments on any topic.
Looking Ahead: Ongoing and Upcoming Temperature Checks
Stablecoin Selection:

An ongoing Temperature Check is in progress, focusing on the choice of the stablecoin for our operations. This decision is crucial as it will significantly influence our platform's stability and user experience.

Liquidity Migration Strategy:

Another Temperature Check is on the horizon, where we will delve into the strategic migration of liquidity. This upcoming check will seek your opinions on reallocating a significant portion of liquidity to further fortify our position on Linea's Layer-2.
Your Voice Matters
We are on a path of continuous innovation and growth, and your input is invaluable. Stay tuned for more details on these Temperature Checks. We are eager to hear your thoughts and preferences as they play a critical role in shaping the future trajectory of MetalSwap.
A Collective Step Forward
The success of MIP-5 is not just a testament to our technological advancements but also a reflection of our strong, engaged, and forward-thinking community. Together, we are building a more robust and innovative MetalSwap.
Thank you for your unwavering support and active participation. Here's to many more milestones ahead!
Stay informed, stay involved, and let's continue to shape the future of DeFi together!
-The DeFi Foundation
✎ About MetalSwap
MetalSwap is a decentralized platform that pioneers Hedging Contracts in the financial markets. Our mission is to provide coverage for digital asset operators and investment opportunities for liquidity contributors. With MetalSwap, we're revolutionizing the DeFi landscape with AMM-style Hedging Contracts.
RISKOFF HEDGING CONTRACTS with MetalSwap dApp!