MetalSwap
May 20, 2023 4:45:03 AM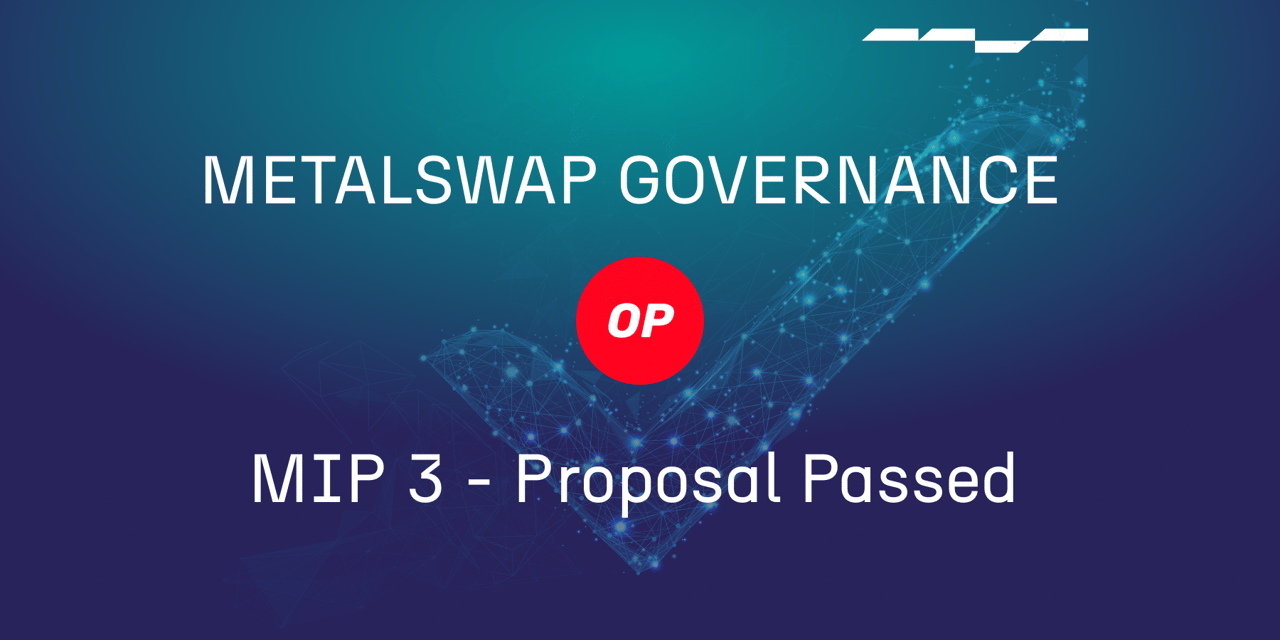 Dear Swappers,
We are thrilled to inform you that the proposal to bring MetalSwap's hedging swaps to the Optimism blockchain has reached the 20 million XMT quorum, this means that the votation is valid.
The valid voting resulted in 24.7 million XMT in favor of deploying the smart contracts on Optimism. No wallet voted against, demonstrating that the Governance has a strong willingness to take this evolutionary step for the Metalswap protocol.


Vote result of MIP 3
The advantages, as set out in the proposal are many for MetalSwap, let us review them for a moment:
Significant reduction in transaction fee costs for users.
Lower premium costs due to the decreased cost of position liquidation mechanisms.
Opportunity to distribute the Optimism Grant won by MetalSwap. 30k OP that will be distributed to Hedging Swap users and Liquidity Providers.
Implementation timeline
The team has been working for months on implementing hedging swaps on the Optimism blockchain, with a testnet version of the dApp that has been used in recent weeks to test its proper functionality. The official implementation timeline can be estimated, as mantioned in Official MIP-3, within a period of 2 months .

DApp testnet on Optimism
Conclusion
This is a historic milestone for MetalSwap, completing the third proposal within its DAO. We are confident that the arrival on this new blockchain will further strengthen the dApp, which is poised to attract an increasing number of users.


Goodbye Volatility!
-The DeFi Foundation
⚠️Warning⚠️
❗ METALSWAP 's admins or moderators will NEVER contact you directly on any social under any kind of circumstances.
❗ Everything concerning $XMT 's smart contracts and addresses is shared by our official channels (list below), do not trust any different info from any different source.
✎ What is MetalSwap?
MetalSwap is a decentralized platform that allows hedging swaps on financial markets with the aim of providing a coverage to those who work with commodities and an investment opportunity for those who contribute to increase the shared liquidity of the project. Allowing the protection for an increasing number of operators.
With MetalSwap we enable hedging swap transactions through the use of Smart Contracts, AMM style.