MetalSwap
Apr 15, 2023 1:27:01 PM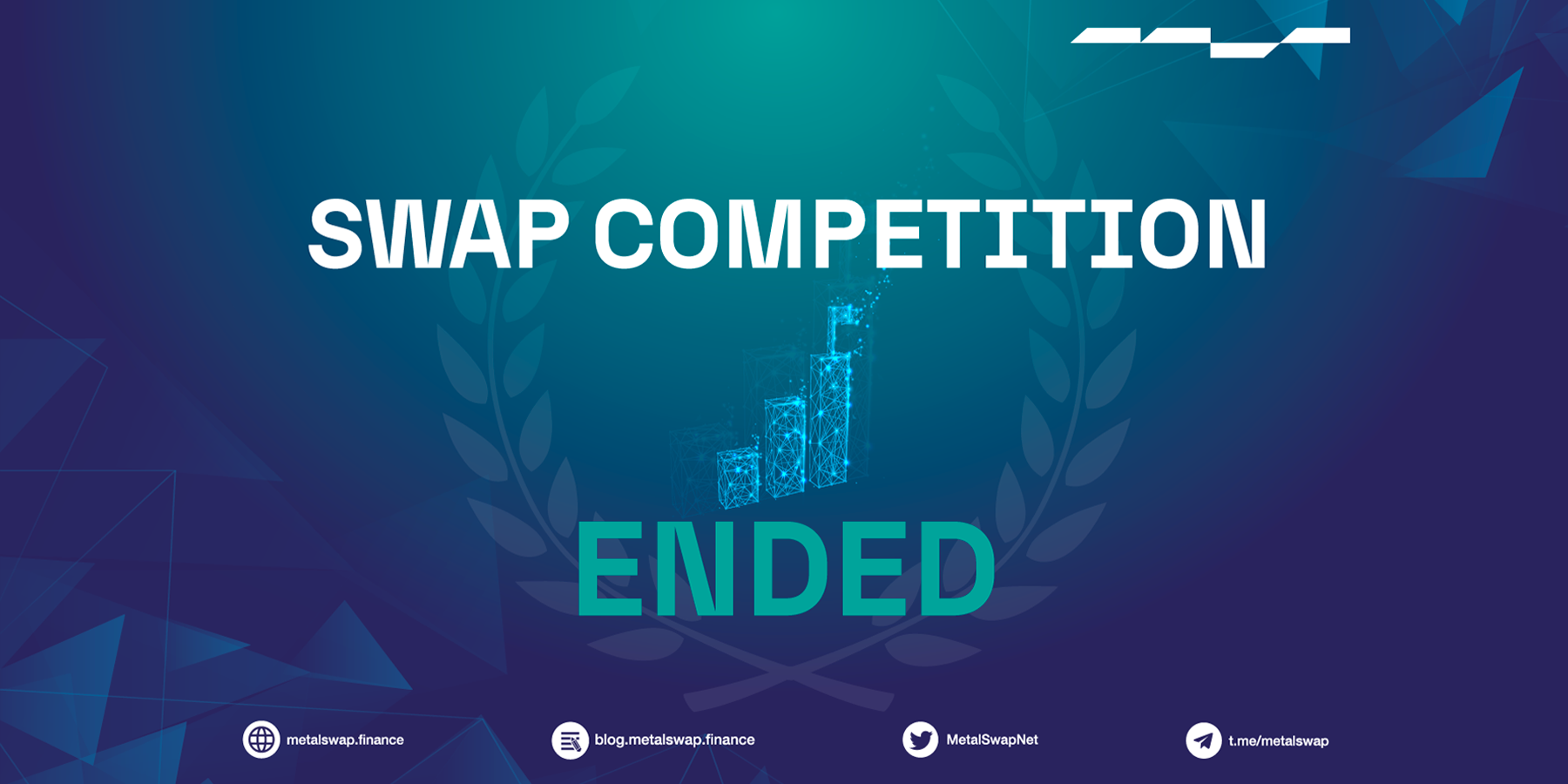 Swap Competition "Top10" concludes: A New Chapter Awaits in DeFi Asset Management
We are proud to announce the conclusion of our Swap Competition, the "Top10" challenge! This exciting event brought together the brightest minds in DeFi, Asset Management, and Hedging Swaps, showcasing their impressive skills and strategies. With this, the Swap Competition event that has been with us every month since its start, will take a pause and a new one is not starting... yet!

Over the past months, our Swap Competitions have been a great tool, enabling participants to learn, grow, and win in the rapidly evolving world of DeFi. As we wrap up the "Top10" event, we want to express our gratitude to everyone who has been a part of these competitions, contributing to their undeniable success.
While the end of this Swap Competition series is here, it does not signal the end of our collective journey in DeFi and Asset Management. We're excited to announce that new opportunities and experiences are on the horizon, and we'll keep you posted on what comes next and when. Stay tuned for updates on our next endeavors! 🚀
The competition took place on every Asset on MetalSwap, so including ETH, WBTC, WPAXG with USDT as stablecoin.
Let's take a quick look at the market performance of ETH, the most followed Asset during this month, in the last 30 days:

ETH/USD Bitstamp - Tradingview
With the Shanghai update looming, there was fear of market volatility. However, ETH took everyone by surprise, as its price surged from $1,590 to $2,100! This impressive increase represents a 30% growth during this period. The image illustrates the exciting ride of ETH over the past month, capturing its remarkable ascent. 📈
Now, it's time to celebrate the great achievements of our Top 10 swappers from the "Top10" competition! These talented individuals will receive the Rewards in the next days as announced at the Competition opening.
A special note to the first and second place winners: please email team@metalswap.net to compile the AML document and claim your well-deserved rewards.
The King of the Swaps is
0x5328e6390a56be7fBAB9dfD82AA7EDc2a11F7036
And he takes also the crown of the Best Swap of the Competition!

Here's the full Top 10:
The King of Swaps - 0x5328e6390a56be7fBAB9dfD82AA7EDc2a11F7036 with an astounding 130.34% profit!

0xb21AcBbBC529E27F37c0D4e0C5132f1447861c46 with an impressive 116.85% profit.

0xEEEaB688eC5A580E0241Bb5F94700D5E2EAb81D0, earning a remarkable 58.16% profit.

0xf4Bb758Ce511A82D85f8055C8F2cDc57f1Cae85a with 39.32% profit.

0x51B5f3C6f8C39876CCF242bAF91287884F6E09B3, with a 37.04% profit.

0xe6f9465C64BC45A0B2c6652aBc29f8B80d42D61f with a 27.61% profit.

0x8c38670DF2fA23b777C80Ad3e304145F6ADb2308, also with a 27.61% profit.

0x5a2c7658B46B54720d795ee39D6Ab6ec2d8bE192, with a 27.50% profit.

0xA92bFCe4A217eA97CFC09EF0A8468e1303a5B4C2 with a 25.55% profit.

0xd1b62C0efbbE168Fb9F574AB853e2f04dC8aC0f0, rounding out our Top 10 with a 21.75% profit.
Once again, we'd like to thank each and every one of you who participated in our Swap Competitions. We're thrilled to have shared this journey with you, and we can't wait to embark on the next chapter together!

In the meantime, we invite you to join our brand-new MetalSwap Governance Forum, where you can actively participate in the future of the MetalSwap ecosystem: you'll gain insights into upcoming projects, engage in discussions, and contribute your valuable opinions to shape the future of DeFi, Asset Management, and Hedging Swaps.

Until next time, stay curious and keep swapping!

What a time to be in DeFi!
⚠️Warning⚠️
❗ METALSWAP 's admins or moderators will NEVER contact you directly on any social under any kind of circumstances.
❗ Everything concerning $XMT 's smart contracts and addresses is shared by our official channels (list below), do not trust any different info from any different source.
To the MetalSwap!
… and beyond!
-The DeFi Foundation
✎ What is MetalSwap?
MetalSwap is a decentralized platform that allows hedging swaps on financial markets with the aim of providing a coverage to those who work with commodities and an investment opportunity for those who contribute to increase the shared liquidity of the project. Allowing the protection for an increasing number of operators.
With MetalSwap we enable hedge swap transactions through the use of Smart Contracts, AMM style.