MetalSwap
Sep 6, 2023 12:12:13 PM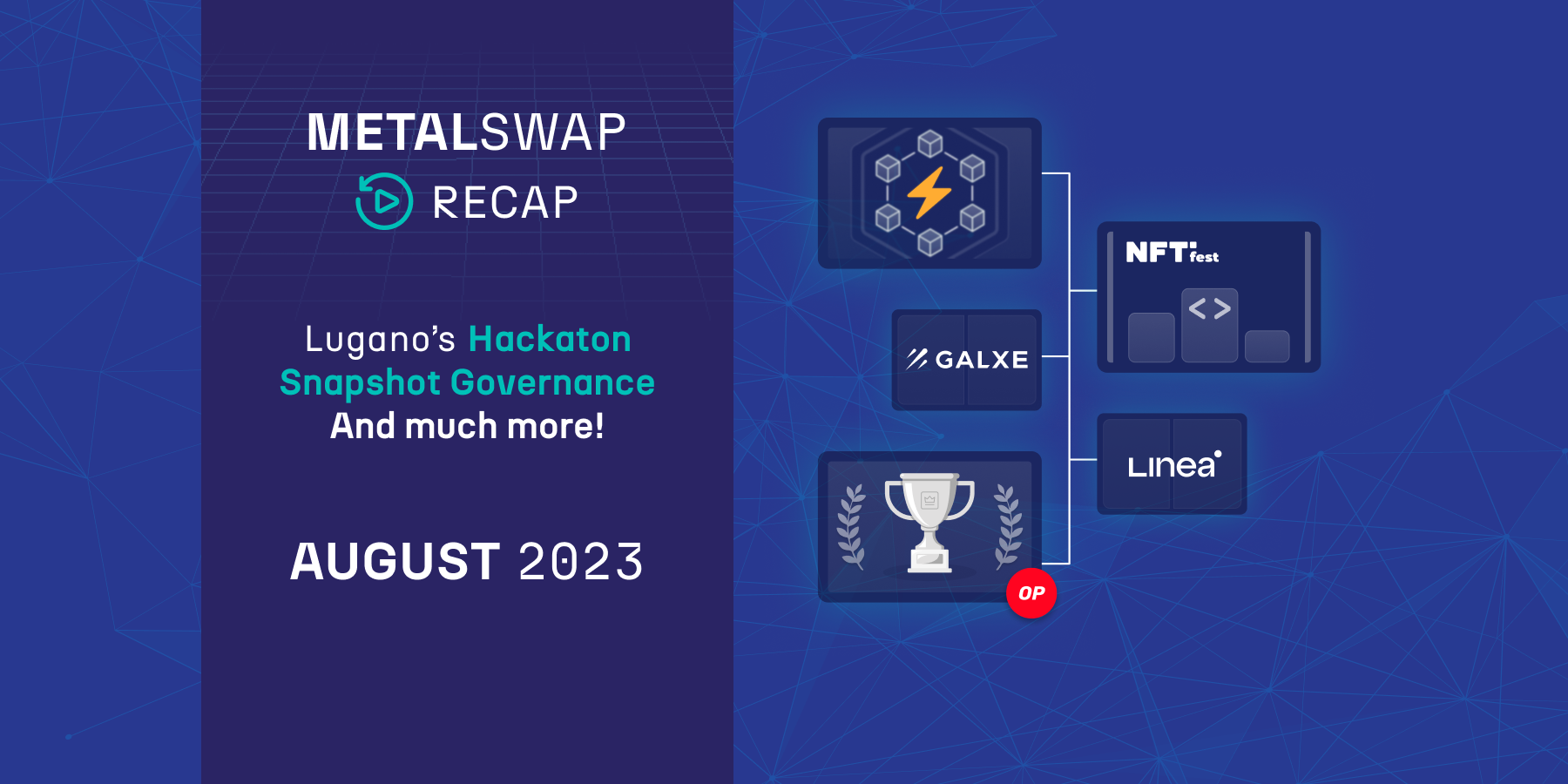 August has come to an end, and as we do every month, we're ready to summarize everything that has transpired over the last 30 days. Welcome to another MetalSwap Recap! In this episode, we have a lot to cover, so let's dive in!
If you didn't read the last one, you can find it here.
As you know, the recap will be divided into four main areas, which are:
Project Updates

Learning Activities

Development Preview

Community Activities
Project Updates
MIP-4
Starting from September 4th and ending the 7th, voting within the DAO for MIP-4 has been enabled. MIP-4 proposes the implementation of Snapshot as a tool for voting on certain proposals. Snapshot allows for off-chain voting, making the voting process entirely free, provided you have at least 1 XMT in your wallet. The quorum for the proposal's acceptance is set at 20 million XMT, and currently, 17.8 million XMT have been cast.
Competition - Finish of "OP mania" and launch of "OP boost"
The Swap Competition has become a flagship event for the MetalSwap project. By participating in the hedging swap during the specified period, users have the chance to win attractive prizes in USDT. In August, the "OP mania" swap competition saw record-breaking participation from swappers. At the end of the month, the best hedging swap achieved a remarkable performance of 226.52%, and all swappers achieved outstanding results. They will soon receive their share of the prize pool, which amounted to 1350 USDT, distributed among various positions.
September has ushered in the launch of a new competition, "OP boost," which follows a similar format to the August competition. It rewards top swappers and offers increased OP token rewards to those who open positions.
Galxe and Guild Campaign
Galxe campaigns assist MetalSwap in attracting new users interested in hedging solutions within the DeFi space. The "Swap Competition Journey" campaign had 115 participants who completed various off-chain and on-chain actions, such as following MetalSwap on Twitter or creating an NFT for liquidity provision within the dApp. Another similar campaign was conducted on Guild, where participants could earn specific roles within MetalSwap's Discord by completing tasks.
OP Grant reporting - Some statistics about August

As reported in the previous episode, in this section, we will focus on summarizing the statistics gathered by the dApp in the last month, with particular attention to the number of OP tokens distributed.
OP token distribution
The latest Competition achieved some very interesting numbers and thanks to the substantial participation, the number of OP tokens distributed has increased. Compared to the 4,300 OP tokens distributed until July, MetalSwap has now distributed over 7,150 OP tokens to its users. At the current OP token price, this is approximately $8,900.
Opened Swaps
Now let's take a look at how many hedging swaps were opened in the month of August:
On Ethereum, 50 positions were opened.
On WBTC, 14 positions were opened.
On OP, 112 positions were opened.
OP is confirmed as the preferred token for opening hedging swaps within the dApp and there is a substantial increase in open positions on WBTC compared to last month.


MetalSwap Grant Cycle 1
During this month, the first-ever Grant Cycle in MetalSwap's history was launched, offering three distinct roles that anyone can apply for:
Hedging Contracts Tool: A tool designed to make the payoff of hedging positions on Metalswap more intuitive.
Financial Architecture Improvement: Proposals are welcome to review the mathematical aspects of the dApp and suggest changes to premium costs.
Community Support: A community manager position is proposed, particularly for Discord and Telegram channels.
You can find more information in the specific posts written by the DeFi Foundation in the Governance Forum.
Learning activities
Market Insight Volatility
Volume 5 of the "Market Insight Volatility" series was released this month. This monthly series analyzes markets of interest for MetalSwap, focusing on events that could lead to volatility. In the latest episode, we discussed how the commodity market is currently undergoing a period of consolidation after a significant decline observed over the last 12 months, among other topics.
Twitter space hosted by Umbrella Network
In this Twitter Space event, our co-founder Tiziano Tridico discussed the topic "How DeFi will change?" with key players in the DeFi space, including Linea. The main focus of the discussion was Zero Knowledge Proof technology. You can catch up on this discussion through this link.
Development Preview
It is highly likely that MIP-4 will be accepted, and in the coming weeks, we will witness the practical implementation of this off-chain voting solution. The team is also working on publishing new articles that will cover exciting new Use Cases and other central topics in protocol development.
The next significant step will involve restructuring the MetalSwap DAO, as will be detailed in a future article, exploring solutions to enhance the user experience with this vital MetalSwap tool.
Community Activities
Hackathon at Lugano's NFT fest!
MetalSwap will be present at the Lugano NFT Fest and has organized a Hackathon in partnership with the event. Anyone can participate, with the Hackathon set to begin on September 9th. Winners stand to win 5,000 USDT!
To participate, registration via MetalSwap's Hackathon Subscription Form is required, with the deadline for registration being September 7th.
Forum discussion
Lastly, as with every month, we summarize the most interesting discussions within the MetalSwap forum. One particularly intriguing post was titled "Market Cap/Circulating Supply/Token Price" where some users discussed the token inflation topics. This is a crucial subject, and continuing the discussion around it will contribute to effective development.
Another forum post initiated the process for the implementation of MIP-4.
Additional posts revolve around grant positions, as previously discussed.
Farewell for now and thank you, until we meet again next month!

-The DeFi Foundation



✎ What is MetalSwap?
MetalSwap is a decentralized platform that allows Hedging Swaps on financial markets with the aim of providing a coverage to those who work with commodities and an investment opportunity for those who contribute to increase the shared liquidity of the project. Allowing the protection for an increasing number of operators.
With MetalSwap we enable hedge swap transactions through the use of Smart Contracts, AMM style.

It's great to Hedge the Risk of Price volatility with MetalSwap dApp !